VonThun Farms Fall Family Fun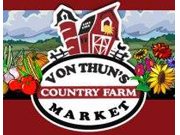 Corn Maze:
This year's theme: A Tribute to local singing idol JAX!! You'll be Lost, Laughing, and Loving it! Enjoy the whole MAiZE (approx. 1 hour) or the Junior MAiZE (15-20 minutes) Attempt the MAiZE without any help – or cheat a little using any of our fun, interactive activities, including Cornundrum Signs, Passports, Corn Texting, or a map. Decide the challenge level that is best for you…and venture off into the 6+ acre field for your journey to begin!

Hayrides:
Our destination is the pumpkin patch, which is located on the far side of the farm…but to get there you will have a 10 minute ride through our farm fields. You'll pass our orchard and our pond…the mum field and the corn fields. If you're lucky, you might even catch sight of a deer or fox on one of the outter farm driveways! The corn cannons and pumpkin blaster are also located in that general area, and a hayride is needed to get there!

Corn Hole:
More down-home-country-fun!! This simple game is similar to a beanbag toss, but with corn bags rather than bean bags!! (you really don't think we would let you play CORNhole with BEANbags, now do you??!!) A corn bag in the hole scores 3 points, while one on the platform scores 1 point. Play continues until a player reaches the score of 21.

Pumpkin Picking:
With 3 pumpkin patches and tons of homegrown pumpkins, we're sure to have that perfect jack-o-lantern you're looking for! We've got pumpkins in every shape and size…from giant Big Max pumpkins to Jack-be-Littles, and all sizes inbetween!! Our main pumpkin patch requires a hayride to get to. We've also got 2 walk-to pumpkin patches, located near our corn maze and apple orchard. The pumpkin patches are decorated with wooden characters and photo ops – so don"t forget the camera!

Junior Corn MAiZE:
If the 6+ acre corn maze seems a little long, try the 1st phase of the maze…it's about 1/3 the size of the whole maze. This was designed for our school groups, younger guests, and families that want a taste of the corn maze, but not the whole maze experience. Phase I contains the same interactive activities you'll find throughout the whole maze…as well as a huge read-a-long Spookley the Square Pumpkin book…highlighting his wonderful anti-bullying message!!

Inflatable Obstacle Course:
The obstacle course is geared towards kids that are a little older and taller…height minimum is 42 inches, height maximum is 72 inches. This obstacle course is pure fun…it even includes a small slide! PLEASE NOTE: Due to state regulation, there are minimum and maximum height restrictions. Parents are not allowed to accompany children. Shoes and bare feet are not allowed in the bounce…all children MUST have socks.

Hippity Horses:
Remember those handled bouncy balls we all played with as kids? That's what our Hippity Horses resemble…but they're a lot more fun! You'll have a blast racing these horses around their track. There are horses available in 3 sizes…so there can be no excuses why mom or dad can't race the kids! We also have some Hippity Balls for our younger guests. Go ahead – race the kids…we dare you!

Farm Animals:
We don't offer a petting zoo, but you're more than welcome to visit with the farm animals in our barnyard while you're here. All our animals are pets, part of the family, and 4-H project animals. Visit with Checkers and Razor the horses, Daisy and Dazzle the donkeys, Pepsi the pot-bellied pig, our chickens, sheep, and nationally award winning dairy goats!!

Barnyard Mini Golf:
The miniature golf course was designed and built by the FFA Chapter of the Piscataway Vocational HS. The FFA members return to the farm each fall to work the mini golf course, which is a fundraiser for them. Mini Golf…5 holes of golfin' FUN!

Bee Barn:
Through our observational bee hive, visit with working honey bees up close! It's amazing how much work bees actually do…did you know that a honey bee's wings stroke incredibly fast, about 200 beats per second, thus making their famous, distinctive buzz? Or that the average worker bee produces about 1/12th teaspoon of honey in her lifetime? Learn these facts and more by visiting the Bee Barn!

John Deere Trike and Tractor 'Lil Tike Course:
John Deere tricycles are little bikes that can be ridden around our pedal course by your 'little tikes'. The Junior Pedal Karts are small go-kart looking bikes that can be pedaled around that same course…they're for the 'older tike'! (They're a smaller version of the Pedal Karts we've got for the older kids.) Parents are welcome to help push their kids around the course.

Junior Pedal Course:
This pedal course is designed for those kids that want to play like the big kids, but are just a wee bit too small! Pedal your way around the tire lined course in one of our looks-like-a-go-kart but pedals-like-a-bike pedal karts. Kids will have a blast peddling around the course…parents will be all smiles watching them!

Kiddie Corral:
This little play area is designed for our younger guests, and contains a mix of fun farm activities that can keep them busy all afternoon! The Kiddie Corral contains our sand diggers, pumpkin bowling, straw horses, apple picking, dress-up scarecrows, a sand box, and more!

Moon Bounce:
Geared for our younger guests…TONS of jumping fun! PLEASE NOTE: Due to state regulation, there are minimum and maximum height restrictions. Children will be grouped by size, then allowed to jump together. Parents are not allowed to accompany children. Shoes and bare feet are not allowed in the bounce…all children MUST have socks.

Pedal Kart Course:
Just like our Junior Pedal Karts, but for the bigger kids in the crowd! As long as your feet touch the pedals, this course is for you…adults included. (It's kind of fun to race your child around the course!!) They look real easy to drive, but beware of the tires that line the course, and don't go too fast around those turns! They're fun, but they're not as easy as they look!

Peter Pumpkin:
Your visit will not be complete without hearing Peter Pumpkin explain how the pumpkins are grown at VonThun Farms! Peter is our animatronic talking pumpkin that has been a favorite among our guests for the past few years.

Pumpkin Bowling:
Another fun fall activity…an old favorite with a little farm flair! The concept is simple: roll the pumpkin down the lane and knock down all the bowling pin. But how hard is it to actually roll the pumpkin and get it straight enough to knock down the pins? We'll let you figure that out when you're here to visit.

Rubber Duck Races:
More down-home country fun! Choose the old fashioned pump you'll use to supply the water to push your duck through his channel…and pump away!! You'll find yourself racing the kids over and over until YOU win. Enjoy the races…they're addictive!

Straw Jump;
Another simple, but fun activity for our younger guests! Kids will have loads of fun sitting, hiding, and jumping in the middle of a pile of straw while they toss it in the air and at each other. Making a mess is the name of the game for this fun fall activity!

Straw Maze:
If this maze is just going to be wandered through, it is geared towards the younger crowd. If a challenge is wanted, it is for the older crowd. This straw maze can be used as a real brain teaser…as it has been designed as a 'No Left Turn' maze! Give it a try…navigating your way through, making only right hand turns or going straight. It's not as easy as it sounds!!

Corn Cannons:
The corn cannons uses highly compressed air to shoot ears of corn at high speeds towards our targets. its a lot of fun to watch, and even more fun to shoot! For safety reasons, the corn cannons are located across the railroad tracks, out near the pumpkin patch (so they require taking a hayride to get there!) Next time you visit, be sure to give it a shot (no pun intended!)

Face Painting:
Whether it's a simple little heart on the cheek, or a full face of Spider Man, all kids enjoy our face painter! Dressed in a cute clown-type outfit, Jo does some pretty incredible work.

Pony Rides:
What little boy or girl doesn't get excited about taking a pony ride?! Be sure to have your camera ready to capture that BIG smile! All ponies are gentle and friendly. Pony Rides are provided by Honky Tonk Ranch of Jackson, NJ. Although ponies are hand walked, parents may walk alongside their children. Bring the ponies a carrot…they'll love that for sure!

General Admission Includes:
Hayrides, 6+ acre Corn Maze, Singing Chicken Show, Farm Animals, Pumpkin Checkers, Rubber Duck Races, Kiddie Coral, Pedal Karts, Straw Jump, John Deere Trike & Tractor Course, Hippity Horses, Junior Pedal Karts, Straw Maze, Inflatable Moon Bounce, Inflatable Obstacle Course, Barnyard Mini Golf, The Ag Center, Peter Pumpkin, Pumpkin Bowling, Corn Hole, Barn Raising, Junior Corn Maze, Barnyard Basketball, & Barnyard Baseball.

All activities are scheduled for South Brunswick location only.
Some locations may have last minute updates due to changing circumstances. Please visit the
attraction's website
and/or social media before going to double-check that they are open.
No one can resist Von Thun Farms sweet corn-- not even the farm dog!!
Latest Reviews
There are no reviews for this listing yet!