Corn Mazes and Pumpkin Patches, Fiendish Good Haunts and Harvestfest
July 30, 2019 By Chris B.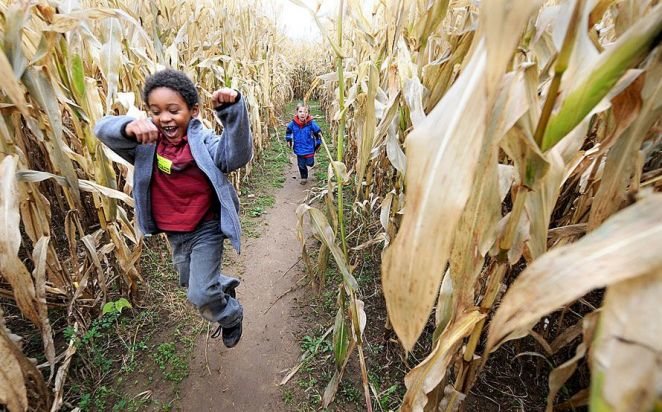 Lots for families, chillseekers and classic car lovers to do when fall arrives in Harrodsburg, Ky.
Photo by:
prlog.org
Harrodsburg, Ky., is doing everything but jumping into the leaf pile for fall fun this year: Corn mazes, pumpkin patches, haunted tours and Harvestfest at Shaker Village of Pleasant Hill headline the fun, along with a car show, an arts festival and suppers in secret locations.
Fall fun for the friendly
Let the kids romp through the kiddy corn maze at Devine's Corn Maze and Pumpkin Patch and select their perfect pumpkin to take home and decorate. Other fun: hay maze, straw crawl, petting area and a nightly bonfire with free marshmallow roasting. Shop for mums, pumpkins, gourds and cushaws. Sept. 14-Oct. 31.
The 2nd Annual Pioneer Classic Open Cruise-In & Car Show gets underway on Sat., Sept. 15. Join this free-admission event with live entertainment – including regional favorites The Dooley-Miller Band with Kickin' Brass – and lots of food and vendor booths.
The Arts Council of Mercer County presents the Fall Arts Festival on Oct. 13 and 14. Held at Old Fort Harrod State Park, this free-admission event features live entertainment and plenty of local, artisan-made products.
Haunting good fun
History is unearthed when the James Harrod Trust stages "History Underfoot," a cemetery tour with local actors and volunteers bringing Harrodsburg's past right into the present at Spring Hill Cemetery. Sept. 14 and 15, beginning at 7 p.m.
Enter a haunted house 238 years in the making during the Haunted Frontier at Old Fort Harrod State Park. The house is actually a fort – and a full-scale replica one at that, which commemorates the first permanent settlement west of the Allegheny Mountains. Haunted cabins, abandoned theater and the oldest cemetery in the state are part of this scarefest. Warning: Not recommended for children under age six. Oct. 27, 28, 30 and 31. Admission: $6.
A bounty of amusements at Shaker Village
Join HarvestFest at Shaker Village of Pleasant Hill, http://www.ShakerVillageKy.org, on Sept. 29: Make apple cider and taste apple butter made with apples straight from the Village orchard. Tour the fall garden and learn how to prepare foods for the winter. There's lots of fun-on-the-farm festivities for the whole family.
New to Shaker Village is "Troops at Our Doorstep: The Civil War Marches Through Shaker Village," 10 a.m.-5 p.m. Sept. 8, offering a glimpse of how the Civil War impacted this Shaker community and those who lived here 150 years ago and featuring re-enactments of Union tactical demonstrations, military encampments and civilian activities as scenes from the Pleasant Hill journals are re-created.
Also new are Fall on the Farm Weekends, running Sept. 29 through Oct. 28, with Kids' Village and a chance to pick your own pumpkins and apples, and Saturday Guided Fall Foliage Hikes, scheduled Oct. 6 through Oct. 27. Enjoy the splendor of autumn colors with a new guided hiking adventure each week.
Other fall events at Shaker Village: Seed-to-Table Secret Supper, Sept. 15 and 29, is al fresco dining somewhere on the Village's 3,000 acres; The Heirloom Supper, Sept. 28, features popular Shaker Village dishes from the last 50 years followed by a bonfire, storytelling and s'mores on the lawn; and "Stargazing-The Autumn Evening Sky and Orionid Meteor Shower," Oct. 20.
Visit www.HarrodsburgKY.com and click on the Calendar of Events to see all the fun taking place this fall.