All-New Bubble Fun, Pumpkins, Treats and Mazes Await Kids at Wonderland's Camp Spooky
October 28, 2019 By Chris B.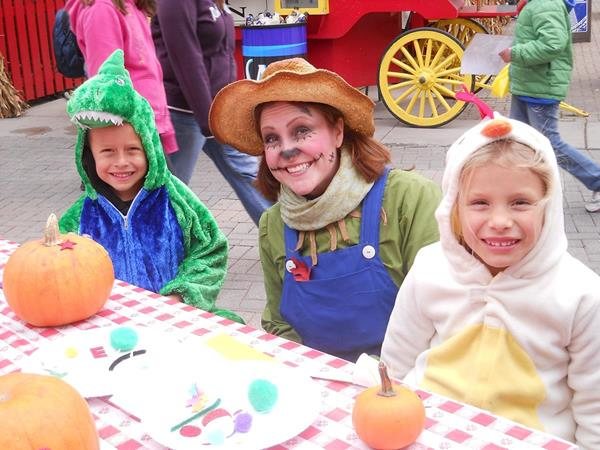 There's plenty of interactive Halloween fun for kids of all ages at Camp Spooky.
Photo by:
Wonderland
The Halloween spirit comes alive for kids with Snoopy and the Peanuts gang at Canada's Wonderland's Camp Spooky beginning Sept. 30, 2017. The annual Halloween family event returns with five attractions and four live shows, including the all-new Pigpen's Foam Pit, where children can romp among towering bubbles. Camp Spooky runs on Saturdays and Sundays until Nov. 3rd from 12 p.m. to 5 p.m. and is included with park admission.
Attractions include:
Pigpen's Foam Pit: New this year, it's like a bath with bubbles, but without the water.

Linus' Pumpkin Patch: Guests explore the patch in search of their very own pumpkin to take home.

Enchanted Garden Maze: Joe Cool's Dodgem School has fallen under a spell and turned into an enchanted garden. Children can navigate the garden around tricky pumpkin vines.

Peppermint Patty's Hay Bale Maze: Hay bales, cornstalks and dead ends await guests in this kid-friendly Halloween maze.

Trick-Or-Treat Adventure: Children can collect delicious treats at various stations throughout Camp Spooky.
Live entertainment includes:
Lucy Van Pelt's Costume Contest: Children can get into the spirit of Halloween by dressing in their most creative, silly and spooky costumes.

Spooky Tales with Snoopy: Join Snoopy for this interactive and fun storytime.

Charlie Brown's Trick-or-Treat Show: Charlie Brown, alongside his friends Lucy and Linus, take children on a musical adventure as they get ready for trick or treating and the big Halloween party.

It's the Great Pumpkin, Charlie Brown: View the family classic It's the Great Pumpkin, Charlie Brown on the big screen in Action Theatre.
Camp Spooky is included with park admission. All KidZville and Planet Snoopy rides will be open during the day.
About Canada's Wonderland
Canada's Wonderland, Canada's premier amusement park located in Vaughan, Ontario (just outside Toronto), is a 300-acre theme park with more than 200 attractions including 16 rollercoasters, and is the home to Splash Works, a 20-acre water park. Canada's Wonderland is owned and operated by Cedar Fair Entertainment Company (NYSE: FUN), a publicly traded partnership and one of the largest regional amusement-resort operators in the world. The Company owns and operates 11 amusement parks, two outdoor water parks, one indoor water park and five hotels.