Schweizer Orchards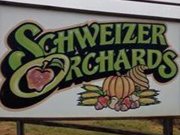 Schweizer Orchards has produced and packed high quality River Bend Apples for over four generations. A family owned business, Schweizer Orchards continues this tradition with their retail market in St. Joseph. It has U-Pick blueberries, raspberries, blackberries, peaches, apples and pumpkins.

A field trip to Schweizer Orchards begins with a picture book story read aloud describing the process of the apple harvest. This will be followed by a tour of our retail store. Retail Orchard in St. Joseph specializing in apples, peaches, pumpkins, Christmas trees, and much more!

Latest Reviews
There are no reviews for this listing yet!