Schiltgen Farms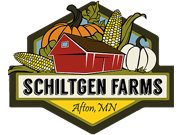 Schiltgen Farms offers a wide assortment of fall decorations for your home and business.

Pumpkins:
If you enjoy pumpkins and fall decorating then you have found the right place! We grow over 40 different varieties of pumpkins with wide range of shapes and sizes. From miniatures to jumbos close to 100lb's. Maybe even a couple over 500+ lbs. You will be amazed by our varieties and quality. All of our pumpkins are grown locally and hand-picked.

Squash:
We offer 8+ different varieties of squash for all of your favorite eating and baking recipes!
Acorn – (Green, Cream of the Crop, Carnival, Heart of Gold), Butternut, Buttercup, Kabocha and Hubbard.

Gourds - We have many different varieties of gourds with an assortment of colors and sizes.

Indian Corn - Indian corn bundles are great for adding color to indoor and outdoor areas. We offer both large and mini Indian corn varieties with an assortment of colors.

Corn Shocks - We have bundled corn shocks available for all your fall decorating needs. We will cut to your preferred height.

Fresh Sweet Corn - All of our corn is locally grown and is hand-picked fresh daily. Picked every morning and throughout the day to ensure maximum freshness.

Latest Reviews
There are no reviews for this listing yet!