Nelson's Apple Farm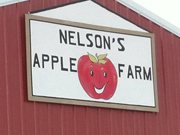 Nelson's Apple Farm has been growing premium quality apples since 1974. In the 40+ years of business, the goal has always been and remains to provide consumers with top tier apples and offer a fun-filled experience on the farm for the whole family.

Nelson's Apple Farm attractions includes - Pumpkins, Squash, Gourds, Apple Fun, Wagon Rides and much more.

Pumpkins:
The pumpkin fairy has visited the orchard. This year the fairy brought many smaller pumpkins. All pumpkins are up by gift shop next to the fence line and on the porch.

Squash:
Choose from eight varieties of squash hand planted, grown to perfection and picked at the ideal time. Varieties include: Waltham Butternut, Table Queen Acorn, Buttercup Burgess, Emerald Buttercup, Winter Carnival, Sweet Dumpling.

Gourds:
Nothing says autumn in Minnesota quite like a basketful of ornamental gourds sitting on the porch step or as decoration on the dining room table. Make your porch burst with color this fall with gourds.

Apple Fun Pass:
You're in for fall fun with the Nelson's Apple Farm Apple Fun Pass. With your Apple Fun Pass you receive access to the following:

Wagon Ride - A scenic wagon ride through the apple orchard, pumpkin patch, nature preserve and Christmas tree field. This ride is about 20-25 minutes long. (Available weekends only, unless otherwise stated)

Andrea's Barnyard - Feed one or more of the many animals that call Andrea's Barnyard home. Here you'll meet Leonard the black goat, Huey the brown goat, Daisy the fainting goat (she's shy), Domino (Daisy's baby), Ferbie the Lionhead rabbit, all 25 baby chicks that get bigger by the day, and Moo the calf.

Corn Stalk Tunnel Crawl - Great for even the youngest children. It's the perfect length and brightness that keeps toddlers coming out the other end laughing and having a fun time.

Putt Putt Golf Game - The one-hole golf game was added a few years ago. Will it get the best of you or will you be the master of the game?

Bean Bag Toss - Try your hand at tossing a bean bag through the pumpkin. Play with others and gain bragging rights when your bean bag goes in first.

Picture Boards - Switch it up and pretend to be the farmer or his wife or the cowboy or cowgirl. Go ahead, be silly, it's all in good fun.

Latest Reviews
There are no reviews for this listing yet!