Litehouse Debuts New Limited-Edition Flavor Dip: Pumpkin Spice Caramel
March 9, 2020 By Chris B.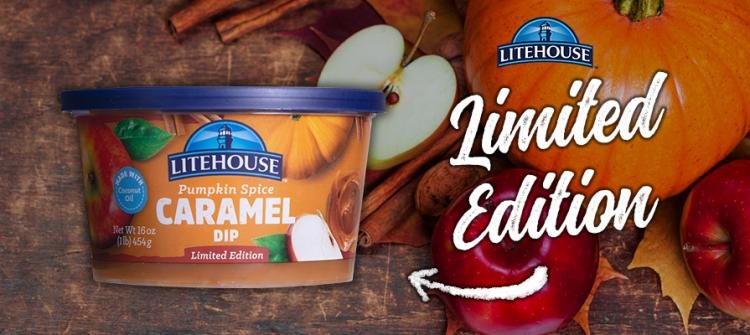 Litehouse presents Pumpkin Spice Caramel dip, available for a limited time.
Photo by:
Litehouse
Litehouse, Inc., a 100 percent employee-owned company and the No. 1 Refrigerated Salad Dressing (RSD) brand in the U.S. and Canada, is turning over a new leaf with a fresh look for its line of deliciously indulgent caramel dips and a limited-edition flavor: Pumpkin Spice Caramel.
Available for a limited time, Litehouse Pumpkin Spice Caramel dip has subtle hints of pumpkin and spices like cinnamon, clove, nutmeg, ginger and allspice, married with delightfully smooth caramel. This versatile dip adds a dose of festive flavor to consumers' favorite sweet treats: perfect for dipping apples and pretzels, or drizzling over pie, ice cream and other desserts. It's also great for baking, and a delicious complement to coffee, warm apple cider and seasonal cocktails.
"Pumpkin is a classic, nostalgic flavor for many consumers," said Litehouse Brand Manager Theresa Lindholm. "Unlike many fleeting food and beverage trends, data shows that pumpkin spice is consistently in high demand, and we're excited to combine this popular flavor with our beloved caramel dip for a uniquely delicious treat."
The full Litehouse line of caramel dips, including 16 oz. tubs and 2 oz. snack-size cups, also has a bold new look. Featuring bright colors and an easy-to-read label with usage tips and product claims, the updated branding and packaging for the caramel dips is part of a recent Litehouse brand refresh to create a more consistent look across the entire product portfolio.
Litehouse caramel dips are made with coconut oil and real butter for a rich and creamy melt-in-your-mouth flavor experience. For a limited time, Pumpkin Spice Caramel joins the full Litehouse line of caramel dips, including original Old Fashioned Caramel, Low Fat Caramel, Butterscotch Caramel and Chocolate Caramel.
Litehouse Pumpkin Spice Caramel and the full line of caramel dips can be found in the produce department of grocery retailers nationwide for an SRP of $3.99.