It's the Great Pumpkin Patch Express, Charlie Brown!
June 26, 2019 By Chris B.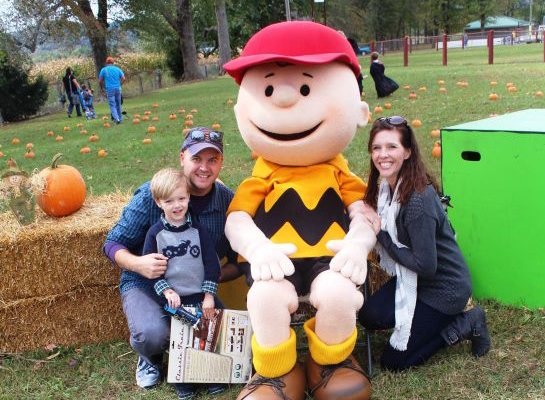 Bardstown's KY Railway Museum hosts Charlie Brown and Snoopy.
Photo by:
PRLog.com
PEANUTS™, pumpkins and one very "sincere" pumpkin patch. "Trick or treat comes only once a year," as Sally says. Spend it in Bardstown at the Kentucky Railway Museum for its Great Pumpkin Patch Express. Two excursions, themed after Charles M. Schulz's classic story, It's The Great Pumpkin, Charlie Brown, will depart from Kentucky Railway Museum's New Haven depot on Saturday and Sunday, Oct. 5 and 6, 2019.
Trains depart at 11 a.m. and 2 p.m. on Saturday and Sunday for an excursion through the Kentucky countryside to the Pumpkin Patch where children can choose a pumpkin to take home. Kids are encouraged to wear their Halloween costumes for this event, which also includes photos with Charlie Brown and Snoopy, a coloring station, mini train rides, mini golf, bounce house, games, temporary tattoos and more. Back at the train depot, families can browse and buy PEANUTS™ merchandise.
The Great Pumpkin Patch Express headlines a full schedule of Kentucky Railway Museum excursions. Don't miss the family-friendly Rolling Fork Iron Horse Festival on Saturday, Sept. 14, with an excursion and lots of arts of crafts activities. New to the festival for 2015 is a Wine Tasting hosted by the museum.
On Saturday, Oct. 19, the museum hosts the 4th Annual Antique Car Show, with beautiful classic cars to see before or after a train excursion. Themed train excursions include Civil War Train Robbery, Great Train Robbery, Murder Mystery Theater and four-course dinner train. See all the excursions at www.KyRail.org.
Bardstown has lots of fall fun planned for October. Make a weekend of it and find your perfect overnight among Bardstown's well-known chain hotels and 17 bed and breakfasts – including ones near Bardstown's busy Court Square and ones that accommodate families traveling with children at www.VisitBardstown.com.