BAGI Glass Pumpkin Patch at Santana Row
February 11, 2020 By Chris B.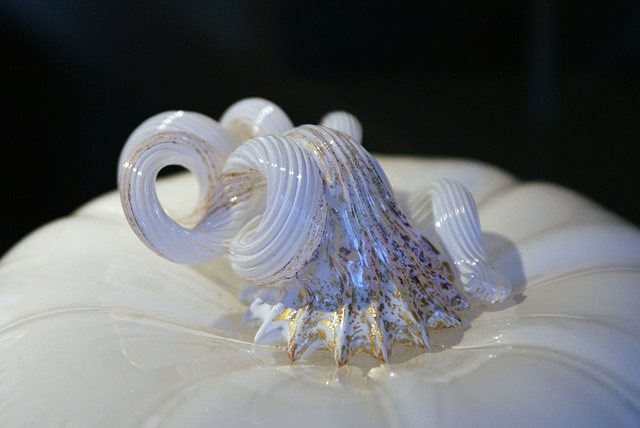 BAGI presents hand-crafted glass pumpkins made by local, and nationally-recognized glass artists.
Photo by:
PublicDomainPictures
On February 22-23, the Bay Area Glass Institute (BAGI) will transform Santana Row Central Park into a fantasy garden of hand-crafted glass pumpkins made by local, and nationally-recognized glass artists. This is the second year for this new BAGI fall tradition.
This year live glassblowing demonstrations will be given throughout the weekend. So, if you have never seen a glass artist mold 2,200 degree molten glass into a work of art, this is your chance.
Each of the thousands of pumpkins and other autumnal items are stunning one-of-a-kind works of art in a myriad of shapes, sizes, colors and patterns and the perfect item for a fledgling collector. They also make unique gifts for family and friends. You will find pumpkins in traditional and avant-garde colors and an abundance of styles at a price for every budget.
"It is a great way to support your local arts community since most of the pumpkins are made locally," says BAGI Executive Director, Damon Gustafson.
Proceeds from this year's patch will supplement BAGI's operating budget and help BAGI complete its move to a new facility, supplement educational programming, replace aging equipment, and fund the Visiting Artist Series, a program open to the public.
ABOUT THE BAY AREA GLASS INSTITUTE (BAGI)
The mission of the Bay Area Glass Institute is to make the celebration of glass art accessible to all and provide continued artistic and educational growth to artists, patrons and the community. BAGI is the only public access glass-working facility in Santa Clara County. A 501(c)(3) non-profit organization, BAGI is funded in part by the City of San Jose and the Arts Council Silicon Valley. We educate the public about glass art by teaching a variety of glass-working classes to children and adults, offering tours of our facility, and bringing in internationally renowned as well as local guest artists to conduct free demonstrations and lectures. BAGI's signature event is the Great Glass Pumpkin Patch®, held in conjunction with the Palo Alto Art Center and Palo Alto Art Center Foundation in Palo Alto, CA. Our goal is to continue expanding our education and program offerings to artists of all ages and the general public. BAGI street address: 635 Phelan Ave., San Jose, CA 95112. BAGI mailing address: 1650 Senter Rd. San Jose, CA 95112.
ABOUT SANTANA ROW
Santana Row is Silicon Valley's premier destination for shopping, dining and nightlife. Santana Row features 578,000 square feet of retail, more than two dozen acclaimed restaurants, a 213- room boutique hotel and six-screen movie theatre, all surrounded by landscaped gardens, parks and plazas. Above the retail pedestal are 514 residential units, featuring a fitness center and resort-style pool, and 114,000 square feet of office space. Santana Row is a property of Federal Realty Investment Trust (NYSE:FRT), headquartered in Rockville, Maryland.