Tweite's Family Farm Corn Maze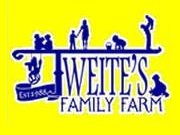 Our amazingly large 12 acre corn field is an adventure in itself! Be prepared to GET LOST as you venture your way through the corn maze field. Before you enter the maze, you will first see a video where your group will receive a game sheet, a pencil and crayon, and MAIZE-O-VISION secret decoder glasses if you prefer (MAIZE-O-VISION glasses are an additional charge of $1.50). This video will explain how to play several games in the maze, how to navigate your way through the maze, and most importantly, the rules of the maze.

This year's Maze: THE DARK AGES wait to be explored by knights and ladies. Learn the customs and life in medieval Europe in the Age of Chivalry.

There are several "Maze Masters" inside and around the maze at all times. Whether you need help finding a clue to find your next station, or you are just plain LOST, our Maze Masters are there to help!

While in the maze, you will complete the questions and answers, find the picture rubbings, and decode the secret word! A trip to Tweite's Corn Maze is more than just a "walk in the stalks." There so much to do, you may forget you're LOST! Our corn maze features a new theme every year. So if you've mastered the maze one year, come back the next for an all-new maze design!


Tweite's Pumpkin Patch Tractor Drive
Latest Reviews
There are no reviews for this listing yet!