Simek's Farm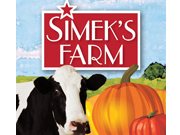 Simek's Farm is a wonderful place for both the young and the young-at-heart to enjoy a unique fall farm experience. Come get lost in the corn maze, pick out your fall pumpkin, buy farm fresh produce, enjoy lunch in the cafe, sip cider on the front porch, take a hay ride and more!

General admission includes the corn maze, farm animals, and activity yard. We know your children will love the giant silo slide, jumbo rope swings, climbing the tire sand pile and a jump in the hay stack. It's the simple things that we all love and the memories that stay with us!

Corn Maze:
Get lost in our 4 acre corn maze! It might sound simple but just wait till your surrounded by 6 ft corn stocks! We will provide a map and a mission for you as you make your way through the maze. Don't worry you'll get through and we'll make it fun!

Hay Rides:

Pull up a straw bale and enjoy a good old fashion hay ride. A hay ride through the field on a fresh fall day will bring a smile to your face. Enjoy the fresh air, round bales in the fields and Holstein cows grazing in the distance. You might even see some "Angry Birds" out in the field!

Fresh Fall Produce:
We are growing many varieties of pumpkins, squash and gourds along with cabbage, beets, carrots and other fall produce. .

Barn Yard Fun:
In the barn yard you will find farm animals, a giant silo slide, tire sand pile, hay stack, picnic area, swings and some photo fun stops.


Latest Reviews
There are no reviews for this listing yet!