Holmberg Orchard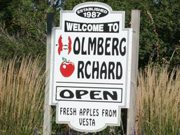 Fall is in the air and we invite you to join us here at Holmberg Orchard to enjoy some of the sights and sounds of fall. We hope you set a side a few hours to come out and enjoy hay rides, bright orange pumpkins and of course fresh apples in many different varieties.We have weekend events planned that will entertain your family. Our clowns Happy Face and Candy Kisses will be here on special weekends, as well as Jessica's Little Ponies.

Daily activities at Holmberg Orchard include juicy apple samples, build-you-own scarecrows, the boat yard with a boatload of corn and haystacks for the kids. Weekends are packed full of activities for the entire family. You can ride through the orchard on a farm wagon, help stir apple butter cooked over an open fire and hunt for that perfect pumpkin in the Pumpkin Patch. There are special treats at our weekend lunch stand; old fashioned hot dogs, walking tacos, BBQ's, apple crisp and caramel apples.Each year families make an annual trip to Holmberg Orchard. We hope you will mark the calendar for your special weekend to continue the tradition.
Latest Reviews
There are no reviews for this listing yet!